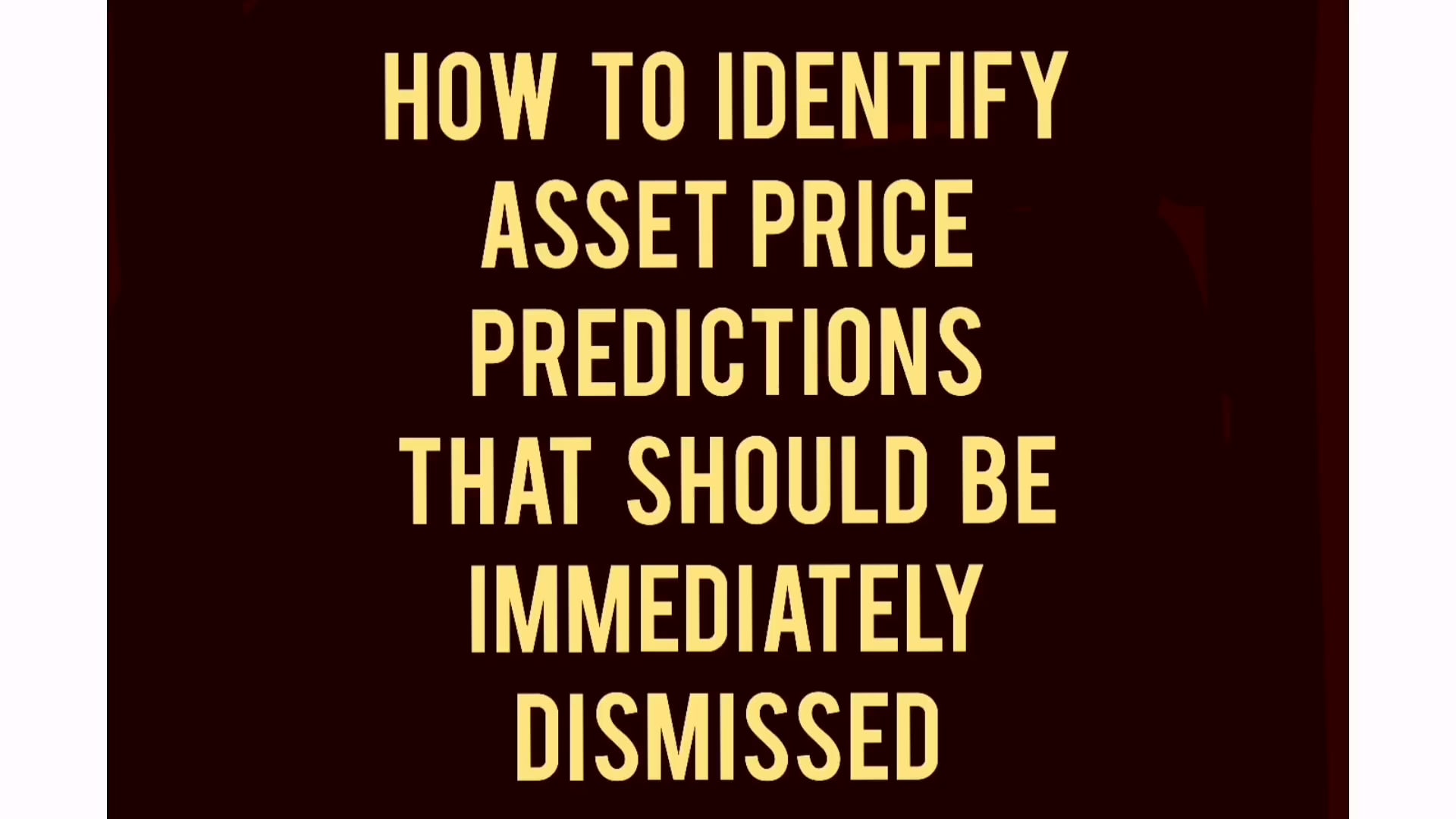 Can You Identify Asset Price Predictions Provided in Good Faith v. Those Designed to Get Clicks and Views?
We'll use gold/silver/and cryptocurrency price predictions to illustrate this point
Today, I'm presenting a short 7-minute video on how to identify asset price predictions that you should immediately dismiss after listening to them, including factors (timelines) that automatically disqualify such predictions as realistic and likely having little to no chance of ever coming true.
To illustrate the other end of the spectrum of reality, I'm going to use a gold/silver price prediction of mine that was wrong, and is still wrong, as gold is trading at $1,845 and silver at $21.58 right now (my silver prediction was for silver after its post-Fed price spike would crash back down to the $21 price level, which can be confirmed by any of my Patreons in the comment section that read this substack post), because even though it was wrong (though now it has until the end of this week to come true), it aptly illustrates the massive difference between a prediction made in good faith and predictions solely made to "sell one's book" and to accumulate more followers, likes and subscribers (again all missions not meant to benefit the receiver of the prediction, but designed for the sole benefit of the deliverer of the prediction).
Furthermore, I'm never embarrassed to publicize a wrong prediction of mine to illustrate a point as it is impossible to get every prediction right, and it is the overall track record of predictions issued by an analyst that determines whether an analyst should be dismissed or followed.
PS. the skwealthacademy Patreon videos inserted into the above videos are only a segment of the daily videos I deliver to my Patrons five times a week, as they normally last 3-6 minutes a piece. Furthermore, the videos were captured using a screen capture app and are second generation, consequently explaining the video and audio degradation in comparison to the rest of the above video podcast.
skwealthacademy by J. Kim is a reader-supported publication. To receive new posts and support my work, consider becoming a paid subscriber.
Disclaimer: No information distributed here should be considered investment advice and is solely the opinion of the publisher, J. Kim. Full disclaimer available on our "About" page.
Access more skwealthacademy content through my other platforms: The production of all my public content is 100% reader supported. A huge thanks to all my current supporters. For investment analysis and tips every week and month, join my patreon platform here. All memberships at the Benefactor membership level and below will be indefinitely capped at their current level, so the only possible way to join my patreon platform in the future, at these levels. will be by joining when someone leaves, which is most possible during the first week of every month. Memberships at the Top Supporter level and above still remain open. To donate to the launch of my upcoming wealth building Academy, visit my gofundme campaign here, and to download a fact sheet to learn how my soon-to-be-launched Academy will radically alter business education forever, click here. If you've never followed me on Twitter, follow me now as I am re-starting my account. Help me discover if my twitter follower count has finally been uncapped after having been capped for 10 years.
Finally, I'm in the process of releasing an archive of 20+ webpages of video content that existed behind a paywall for absolutely free on my Rokfin platform, as I've decided to focus my content to my substack and patreon platforms. Just click here to access this content, of which I've already freed 30+ videos from behind a paywall and of which the rest will be released for free by year's end (PS. You must sign up for a free subscription even to access the free content, but it takes one minute to do so).